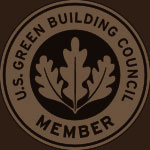 You can feel good about choosing Kendra C. Thompson Architects. For more than 20 years, we've been committed to providing solutions that are responsible in utilizing our resources and reflecting the Owner's needs today and tomorrow. We are continuously garnering information about effective use of recycled materials, high efficient building systems and responsible use of natural resources. In addition to our familiarity with the Michigan Building Code, Michigan Energy Code and LEED Certification requirements, we provide value analysis to address energy saving concepts such as:
•Site evaluation to maximize solar energy gains/loss
•Awareness of program spatial relationships for maximum Owner efficiency
•Utilization of energy efficient construction materials
•Material Analysis to minimize life-cycle costs and maximize material longevity
•Recommend energy-efficient materials that best meet Owner needs & budget
•Use of renewable materials, including structural and finish materials
•Understand unique wind, water & climate issues related to specific site location
•Installation of High-Efficiency HVAC systems, including geothermal
•Development of Energy Efficient Temperature Control Systems
•Development of water conservation systems
•Development of Energy Efficient Lighting Systems
•Development of Electrical Technology Systems
At Kendra C. Thompson Architects, we inherently design for sustainability... no special requests necessary.
Roll over the images below to see enlargements and learn more. Please note that images are large and may take a few seconds to load.